Famous left handers
Talk

10
23pages on
this wiki
There are many left-handers well known by society and culture. Here is a complete list of Famous left handers. There is a picture of the person mentioned using their left hand, to prove otherwise that they are truly left-handed or prefer their left hand for writing. Below that image is their signature, and their name (and/or title).
Politicians
Edit
U.S. Presidents
Edit
Politicians and Leaders
Edit
Film & Entertainment
Edit
Television
Edit
Comedians
Edit
Directors
Edit
Interesting Facts:
Alfred Hitchcock frequently had left-handed lead actresses in his films, which include Kim Novak, Tippi Hedren, and Eva Marie Saint .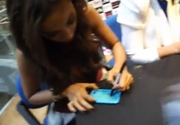 Musicians and Singers
Edit
This is a list of notable musicians who play guitar, bass or drums left-handed. This does include people who play right-handed, despite being left-handed, such as Robert Fripp, Joe Perry or Noel Gallagher. This also includes all musicians who write with their left-hand.
Note : Jimi Hendrix played guitar with his left hand, but, wrote with his right-hand.
Note: Sergei Rachmaninoff isn't left-handed.
Note: Like Hendrix, Kurt Cobain was also a left-handed musician who wrote-right handed. All known photographs of Cobain writing lyrics or signing autographs show him doing so with his right hand.
Left-handed are more inclined to artistic professions, to give an instance, lefties are about 10% to 15% of the general public, while among entertainers they are roughly 50%. [5]
Michelangelo di Lodovico Buonarroti Simoni
Technology and Inventors
Edit
Sports/Athletes
Edit
Fictional
Edit
Comics & Animated Television
Edit
Many characters of the Simpsons are left-handed, since the show's creator, Matt Groening, is left-handed himself.
While the pictures of Finn and Marceline are of them using their left hands, both of them are ambidextrous.
Live action films
Edit
Video Games
Edit
Anime/Manga
Edit